.

:

Mozilla Bug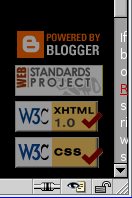 Wie ich Andrew Porter Glendinning besuchte, entdeckte ich diesen Graphikfehler in Mozilla. Der Text lautet
If you can read this, your browser doesn't support the over 4-year-old CSS Level 2 Recommendation. These icons should be fixed in the lower right corner of your browser window, and this message should be invisible.
Nach der Analyse des Stylesheets, habe ich herausgefunden, dass der Text eigentlich ausserhalb des Browserfensters dargestellt werden sollte. Bei Mozilla hört das Browserfenster vor dem Scrollbalken auf, jedoch für die Rendering-Engine erst am Fensterrand :-P
Comments:
Und, schon submitted? :)

sec | 15.04.2004 - 19:30
Nein, aber das könnte ich gleich mal machen.

x-way | Website | 15.04.2004 - 19:45
Nix gewesen, hat schon jemand submitted.

x-way | Website | 15.04.2004 - 20:29